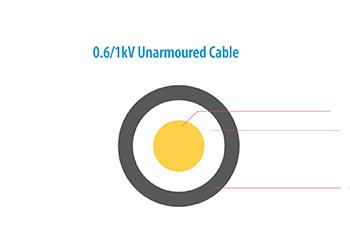 Typical Construction of Cables (AS)
Description
Conductors : The conductors shall be class 2 of plain annealed Copper or Aluminum in accordance with IEC 60228
Insulation : Insulation shall be crosslinked Polyethylene or PVC complying with test requirements of IEC 60502 & IEC 60811
Laying Up : In case of multi core cables, the multi cores are laid up together with e.g polypropylene yarn filler at the interstices between the cores
A binder e.g. polypropylene tape is wrapped round the assembly to form a compact circular cable during this process.
Inner Covering : Inner covering shall be extruded PVC as per IEC 60502. PE, LSZH (Low Smoke Zero Halogen) are available on request.
Armour : Armour shall be as per IEC 60502 of the following type :
Round Wire Armour
Armour material shall be galvanized steel for multi core cables and aluminum for single core cables. This is as per IEC 60502 recommendation
Oversheath : Oversheath shall be extruded PVC/ST1 or ST2 as per IEC 60502, special type of  sheathing such as Flame retardant(FR-), Antitermite(/AT),
Anti-rodent( /AR) and Anti-vermin( /AV), etc. are avaiible on request. PE or LSZH(HF- : Halogen free Flame retardant) are available on request.